The Calendar with 366 italian recipes
Have you ever thought you could cook a different italian recipe every day, for a whole year?
Thanks to the "Calendario Goloso" you can prepare a different dish of the Italian tradition every day.
366 italian recipes gathered in a single truly delicious calendar!
The "Calendario Goloso" is available in 4 languages :
Italian
English
French
German
The "Calendario Goloso" comes with a strong and durable wooden stand that can also be reused for future calendars.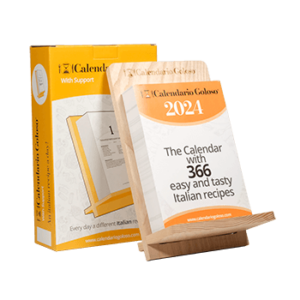 The "Calendario Goloso" is sold inside a sturdy cardboard box.
Suitable for both transport and quick gift wrapping.
A5 format – 23 x 17 x 14 cm.
Weight about 2 kg.
Do you want to resell the Calendar?
If you are a distributor / retailer, a bookshop, a restaurant, a homeware shop, a cooking school, an online shop that deals with items for the kitchen and home or any other business that may be of interest to ours calendar to resell it, contact us by pressing the button below.
Subscribe to the Newsletter
If you want to receive information about promotions, discounts, curiosities and new recipes fill out the form on the side.
We will not send unnecessary advertising.